Shows
Saturday Aug 5, 2017
9:00pm- 1:00am, Uptown Alley, Manassas Mall
8300 Sudley Rd, Manassas VA 20109. The 46,000-square-foot Uptown Alley has 24 bowling lanes, a two-story laser tag arena, more than 50 video and other arcade games, two full-service bars, a sound stage for live entertainment and a full-service restaurant, Red Embers Bar & Grill. Red Embers features a menu of American cuisine, including barbecue, pizzas and a signature "Big Uppy" burger, served in a casual setting. 24 beers on tap.

2017-08-05 21:00:00
2017-08-06 01:00:00
America/New_York
Fringe Benefits at Uptown Alley Manassas
Manassas Mall, 8300 Sudley Rd, Manassas VA 20109


Friday August 18, 2017
8:30pm – 12:30am Lion and Bull, 5351 Merchants View Square, Haymarket, VA 20169. We love this venue. Wonderful owners, well managed, excellent bartenders. Phone: (703)754-1166

2017-08-18 20:30:00
2017-08-19 00:30:00
America/New_York
Fringe Benefits at Lion and Bull Haymarket
Venue Phone: (703)754-1166
5351 Merchants View Square, Haymarket, VA 20169



Saturday Sept 23, 2017
8:30pm – 12:30am The Electric Palm, 12745 Sea Ray Ln., Woodbridge, VA 22192. Great venue inside but one side open to the river. This is where the party happens! Phone: 703-492-7256

2017-09-23 20:30:00
2017-09-24 00:30:00
America/New_York
Fringe Benefits at The Electric Palm Woodbridge
Venue Phone: 703-492-7256
12745 Sea Ray Ln., Woodbridge, VA 22192


Saturday Oct 7, 2017
9:00pm- 1:00am, Uptown Alley, Manassas Mall
8300 Sudley Rd, Manassas VA 20109. The 46,000-square-foot Uptown Alley has 24 bowling lanes, a two-story laser tag arena, more than 50 video and other arcade games, two full-service bars, a sound stage for live entertainment and a full-service restaurant, Red Embers Bar & Grill. Red Embers features a menu of American cuisine, including barbecue, pizzas and a signature "Big Uppy" burger, served in a casual setting. 24 beers on tap.

2017-09-30 21:00:00
2017-09-30 01:00:00
America/New_York
Fringe Benefits at Uptown Alley Manassas
Manassas Mall, 8300 Sudley Rd, Manassas VA 20109


October 20, 2017
Private Party
Friday October 27, 2017
8:00pm – 11:59pm Farm Brew Live, 9901 Discovery Blvd., Manassas, VA 20109. New outdoor mega-venue includes fire pits, brewery, restaurant and more. .

2017-10-27 20:00:00
2017-10-27 23:59:00
America/New_York
Fringe Benefits Band at Farm Brew Live Manassas

9901 Discovery Blvd., Manassas, VA 20109


'
Saturday October 28, 2017
8:30pm – 12:30am The Electric Palm, 12745 Sea Ray Ln., Woodbridge, VA 22192. Great venue inside but one side open to the river. This is where the party happens! Phone: 703-492-7256

2017-10-28 20:30:00
2017-10-29 00:30:00
America/New_York
Fringe Benefits at The Electric Palm Woodbridge
Venue Phone: 703-492-7256
12745 Sea Ray Ln., Woodbridge, VA 22192


Saturday Nov 4, 2017
5:00pm- 8:30pm(showtimes), Horseshoe Casino
Horseshoe Casino- 14Forty Lounge, 1525 Russell Street, Baltimore, MD 21230; (844) 777-SHOE. This is the coolest stage we play. Video screen behind. Look down at the band from above or look up from the bar below the stage. Great atmosphere, slot machines, a bar and The Fringe Benefits- Nice!

2017-11-05 17:00:00
2017-11-05 20:30:00
America/New_York
Fringe Benefits at Horseshoe Casino
Venue Phone: (844) 777-SHOE
Horseshoe Casino Baltimore Md
Saturday Nov 11, 2017
9:00pm- 1:00am, Uptown Alley, Manassas Mall
8300 Sudley Rd, Manassas VA 20109. The 46,000-square-foot Uptown Alley has 24 bowling lanes, a two-story laser tag arena, more than 50 video and other arcade games, two full-service bars, a sound stage for live entertainment and a full-service restaurant, Red Embers Bar & Grill. Red Embers features a menu of American cuisine, including barbecue, pizzas and a signature "Big Uppy" burger, served in a casual setting. 24 beers on tap.

2017-11-11 21:00:00
2017-11-11 01:00:00
America/New_York
Fringe Benefits at Uptown Alley Manassas
Manassas Mall, 8300 Sudley Rd, Manassas VA 20109


Weds Nov 22, 2017
8:30pm – 12:30am Lion and Bull, 5351 Merchants View Square, Haymarket, VA 20169. We love this venue. Wonderful owners, well managed, excellent bartenders. Phone: (703)754-1166

2017-11-22 20:30:00
2017-11-22 00:30:00
America/New_York
Fringe Benefits at Lion and Bull Haymarket
Venue Phone: (703)754-1166
5351 Merchants View Square, Haymarket, VA 20169



Saturday Dec 2, 2017 Private Party
You can hire the Fringe Benefits for you company Christmas Party or other private event.
Friday January 12, 2018
10:00pm- 1:30am, The Bungalow, 13891 Metrotech Dr. Chantilly, VA 20151 Phone 703-502-3925. Smoking venue with great view of the band from the bar. Dancing, full bar.

2018-01-12 22:00:00
2018-01-13 01:30:00
America/New_York
Fringe Benefits at The Bungalow Chantilly
Venue Phone: 703-502-3925
13891 Metrotech Dr. Chantilly, VA 20151


Track our shows on "bandsintown"

Looking for a band to hire? If you are considering having our band for your event, come to one of these performances and let us know. We would like to meet you!
Milestones
May 2017 – Local Airplay on WERA 96.7 Arlington Va
The DC Music Rocks Show aired our song along with some very positive commentary. Here is an excerpt from the show talking about our recording.

April 2017 – Radio Interview
We have begun to get airplay for "You're On My Time Now!" on half a dozen internet or broadcast stations worldwide.  Celtica Radio not only approved our song for play on their internet channel, they also asked for and received an interview with the band. The interview with the song is on regular rotation for the next few weeks and will also be broadcast throughout central Europe from a radio boat off the coast of the Netherlands. Here is the recording of the interview
Dec 2016 Fringe Benefits Merchandise Store Opens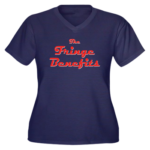 Apparel with The Fringe Benefits Band logo. See the store here.
October 2016- Featured in Prince William Living Magazine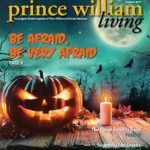 Our honor to have a feature article in our county's most influential magazine. Written by Ema Young who interviewed clients, friends and took pages of notes during our band practice/interview. See that issue of the magazine here.
September 2016- Band Casino Bus Trip
We chartered a bus and took 48 people to the Horseshoe Casino Baltimore for our show. They also received $30 in slot play. Great group of happy people who made this a very memorable show.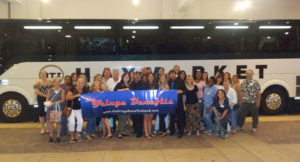 January 2016- We Are On The Juke Boxes!
Our band's original song "You're On My Time Now!" has been added to Touchtunes. It's the Jukebox on the wall at most bars. Search for "Fringe Benefits" to find the song. You can also download the TouchTunes app for your phone. The app shows nearby locations of Touchtunes machines, provides song search and serves as a remote control for the system.
August 2015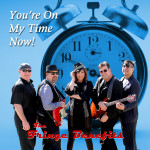 Our first album, a 5 song EP "You're On My Time Now!" is released on iTunes. The title track was written by FB guitar synth player Bruce Moore. Within 2 days the bands version of "Heartache Tonight" out-charts JD Souther (one of the songwriters) and Marie Osmonds version. Click the store of your choice to purchase.
iTunes • Amazon • Google Play • cdbaby (Download and physical cd)
Sept 6, 2014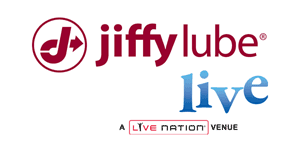 we performed prior to Slash and Aerosmith in the Jiffy Lube Live VIP Club. Click here for the full page news story in Prince William Today.
Latest Facebook Posts